Sayonara Acne!
June 25, 2016
It seems like there's no end of my acne journey from since I was younger, especially during my puberty. Its getting better now-a-days but avoiding period / menstrual acne seems still impossible for me.
I have big pores, often wear make-up and mostly use public transportation for errand. That's why c
hoosing the right facial wash is very crucial. I just wanna make sure that my skin and pores clean enough before I jump into my skincare routine!
Most Japanese skincare that I know focus on moisture, acne and foam wash which claims can deep clean your face. One of it was SkinLife!
I always put my trust on Japanese' product. Simply because what they claim mostly works on me. From drugstore to premium brand. This time, I want to share about this drugstore skincare to combat acne, SkinLife by Cowbrand!
SkinLife's product focus on cleanse and moisture just like what most Japanese's women focus too, to achieve acne free and mochi-mochi like skin, (healthy, hydrated and glowy skin). Their ingredient are mild and gentle that made it suitable for acne-prone and sensitive skin.
SkinLife Facial Foam
Gentle and mild face wash suitable for daily needs for every type of skin. It claims to prevent acne and hydrates the face. Be sure to use foam net to creates thick foam it
helps to penetrate the skin and cleanse them better while maintaining skin texture. I use it during the day simply because my night skincare routine prepare my face for the next day so, in my opinion I need something very mild and gentle to get ready during the day. A little goes along the way~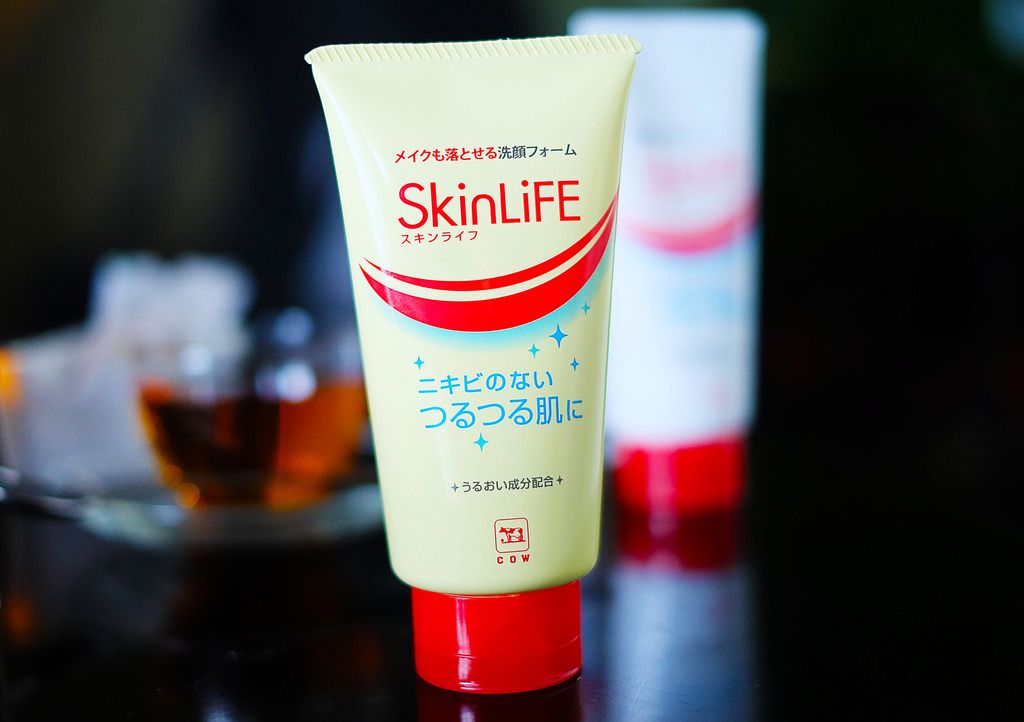 SkinLife Cleansing Foam
Cleansing foam that claim can deep clean the pores and even can removes make-up that no double cleanse needed. I usually use this during the night which I in my opinion my pores need extra helps after full day struggling with pollution dust. The texture obviously thicker than Facial Foam as this one should work harder on removing the make-up but most of time I continue forward with the facial foam if I apply make-up just to make sure it cleans enough eventhough it said no double cleanse needed.
I like the after sensation of using the cleansing foam. I thought that it might dries my skin but apparently the fruit acid ingredient moisture the skin. Not to forget to mention the peach scent become its' plus point.
SkinLife Face Lotion
In Japan, lotion act as toner and is very important before applying any other skincare. Its like it prepares our skin. Pat lightly to face by cotton pad after face wash to moisture the face and remove excess sebum. Its very watery and make my face feels fresh and bouncy.
The Hyaluronic Acid ingredient draws my attention as its pretty much life dry skin's saviour.
Like I mentioned previously, facial wash is so crucial. I need something to deep clean my pores so my skincare can adsorb or perform fully and SkinLife (especially the cleansing foam, I love the how it deep clean my pores without I need to double clean my face) answer my needs.
Conclusion, I should agree that the ingredients was mild and gentle. Friendly for my sensitive skin especially the lotion helps my dry skin a lot! With its' affordable price, it can be purchased on your nearest drugstore;
AEON, Ranch Market, Grand Lucky, Kemchicks, PAPAYA Market City, Rezeki Supermarket, Century, and Yogya Super. O
r website
Nadeko

,

Suka Mart

,

Tororo

, and

Bilna
.