[CLOSED] Pastello Rivoluzione 2016 Giveaway!
January 13, 2016
Hi guys! ga kerasa aja uda 2016.
Ga kerasa juga aku uda blog dari 2011 - 2016. Sudah hampir 5 tahun lamanya tapi ga pernah aktif karena berbagai macam alasan dan yang pastinya, males juga. Well anyway, I'll try hard to update my blog as often as possible! and another social media account too and blogwalking (nah ini yang paling susah nih, padahal cuman komen doang yak ha-ha!).
Sudah 5 tahun ngeblog aku sama sekali ga pernah ngadain giveaway, sungguh bener-bener ya aku ini. Makanya berhubungan 2016 nih, New Year New Me (heakkkkk) selain mengganti layout blog aku juga mengadakan giveaway sebagai tanda terima kasih untuk kamu-kamu yang sudah ngikutin blogku dan juga yang baru akan mengikuti. Salam kenal ya =D
Hadiahnya sih ga seberapa but hope you like it and beside you can choose what you want. Just finger crossed!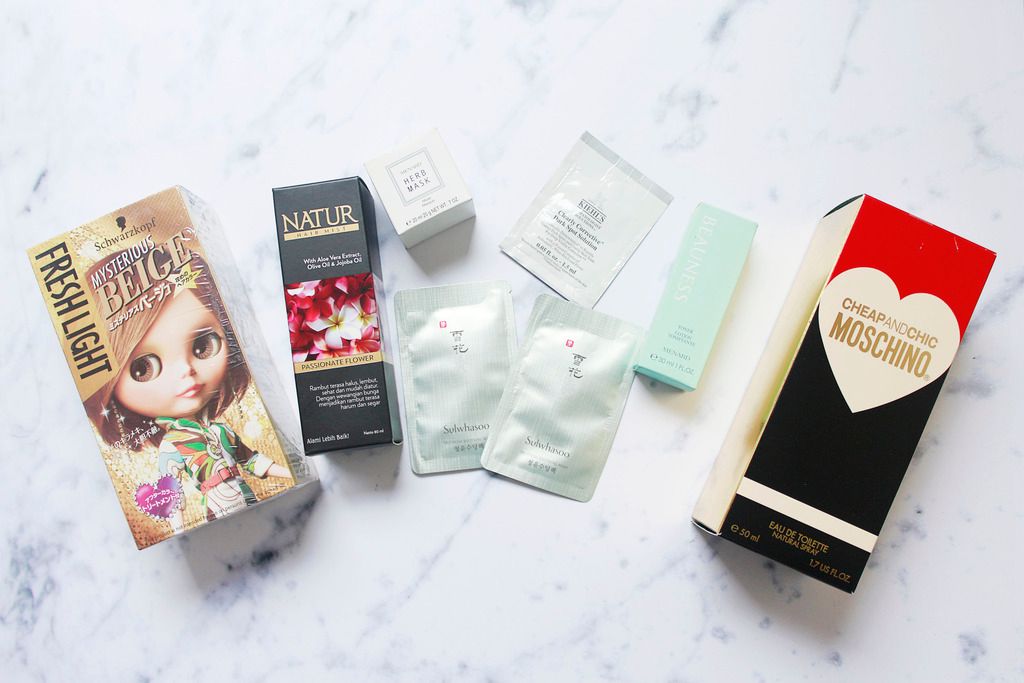 1. Moschino Cheap and Chic Eau De Toilette 50ml
2. Menard Beauness Toner 30ml
3. Sulwhasoo Trufresh Soothing Mask
4. Kiehls Clearly Corrective Dark Spot Solution
6. Natur Passionate Flower Hair Mist 80ml
7. Schwarzkopf Freshlight Mysterious Beige
1. The Skin House APII Professional EX Deep Wrinkle Free 50ml
2. Gatsby H2O Water in Lip
3. Shue Uemura Skin Purifier 50ml
4. Lancome La Vie Est Belle 4ml
5. Lancome Vissionaire 7ml
6. Lancome Tonique Douceur 15ml
7. Natur Hair Mask Hair Loss Treatment
8. Syoss Permanent Colorant in Dark Mocha
1. Koelf Royal Jelly Gel Eye Patch
2. The Face Shop Milk Plus Mild Shower Cream
4.
Lancome Tonique Douceur 15ml
5. Lancome UV Expert GN-Shiel 5ml
6. Natur Hair Mask Nutritive Treatment
7. Sasatine Rice Soothing Face Mask
Nah bagaimana caranya? gampang kok :)
1. Follow akun social mediaku seperti Instagram, Twitter, Facebook Page, Google+ (seperti yang tertera di rafflecopter)
2. Follow blogku melalui Google Friend Connect (kanan side bar)
3. Regram giveaway ini di instagram kamu dengan hashtag #PastelloGA untuk point lebih
4. Isi data kamu di rafflecopter karena pemenang ditentukan dari data yang terisi
5. Jangan lupa pilih hadiah yang kamu mau!
Notes
1. Giveaway ini terbuka untuk siapa aja asalkan berdomisi di Indonesia
2. Ongkos kirim ditanggung sendiri olehku
3. Kalian boleh unfollow aku setelah giveaway ini berakhir tapi akan kumasukkan blacklist untuk giveaway kedepannya
4. Pastikan kalian mengikuti syarat-syarat yang kumention sebelumnya ya
5. Periode 13 January - 13 February. Diumumkan pada tanggal 15 February (Senin)
Last but not least, good luck guys!
Closed! thanks for joining and